We are extremely proud of our leader Lesley. Not only does she arrange most of our songs and teach them in a very simple way, she also inspires us all to achieve more than most of us ever thought we could.
Her c.v. is quite impressive having been trained at the Royal Academy of Music and she is very well respected for her abilities throughout the regional choral fraternity. Rather than take my word for it, here's what Lesley say's about her musical journey so far
.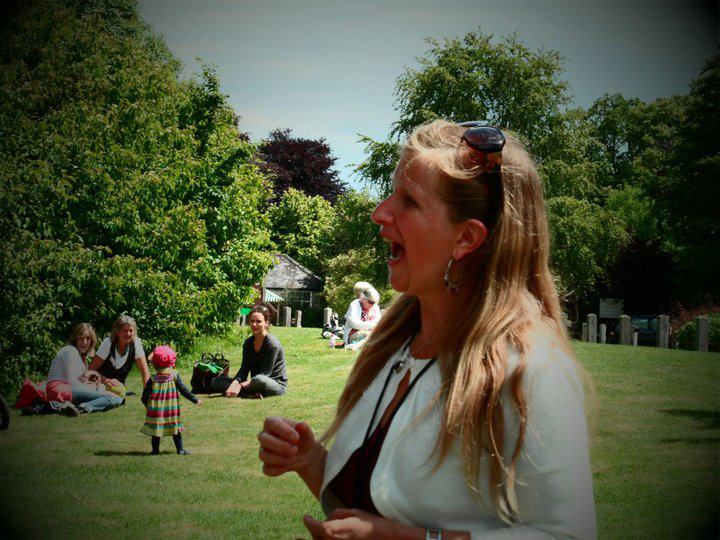 Lesley's Story


"I can't remember not singing - according to my mum, I started singing nursery rhymes in my cot at 18mths old. I sang in church and school choirs and school productions, together with learning piano and double bass (playing in the county youth orchestra was great fun, and I met my husband there).
I studied at the Royal Academy of Music in London for four years, and became interested in Early Music, which I still love - I get the choir to sing the occasional madrigal. I didn't immediately follow up with a musical career, but travelled and worked in various jobs before becoming a student again – this time training as a stringed instrument maker at the London College of Furniture, specialising in Early instruments (lutes, viols, and notably a violone – a double-bass viol). I also made a viola for my husband, which he still plays. I certainly didn't give up on singing – I sang with the early music group at college, and the Elysian Singers, where I was able to concentrate on some of the music I love – early and contemporary.
I moved to Dorset in 1991, and quickly found choirs to join – the New Lydian Singers, and Bournemouth Sinfonietta Choir. When I started a family in 1993, I found that babies and instrument making was not a good mix, and I discovered the Quangle Wangle choir had a crèche. This was a revelation to me – a choir which anyone could join, and which sang a wide variety of music from world, pop and jazz. It was very different to the choirs I had been used to, and I found it very liberating and, most of all, really good fun. When some members of the Quangles decided to set up a group to do a cultural exchange to Romania, I was asked to be Musical Director. I was nervous about this at first, but quickly discovered I loved doing it – I felt as if I'd come home! This is where Local Vocals really started, and when I was asked if I would take over an Adult Education singing class in Bridport in 2002, the first LVs was born – the rest is LVs history"!